Gobsmacked in Scotland

Joe from Scotland sent me this wonderful story about how he and his family created a vegetable garden in place of a lawn. Thank you Joe...

Sheet Mulching Yields Brilliant Results

My name is Joe And I live with my wife and 2 young adults in N.E of Scotland. I think it's a wonderful thing that you have done here and will be bookmarking your site across my various devices. May I share a story with you….
Once From Glasgow
I was born in Glasgow, Scotland at the tail end of the 60's. Back then there were no gardens as we lived in tenement blocks with the tenement rear (back court) ground being largely comprised of fag ash, dog doings, industrial pollution and grime, not too pleasant but who ever knew when wee?
Fast forward to the mid 70's and the family now have a house with garden. My first memory of recycling is of my Mother dropping used tea bags around the rose bushes she grew under the kitchen window, strange the things we retain, eh?
A Garden of Our Own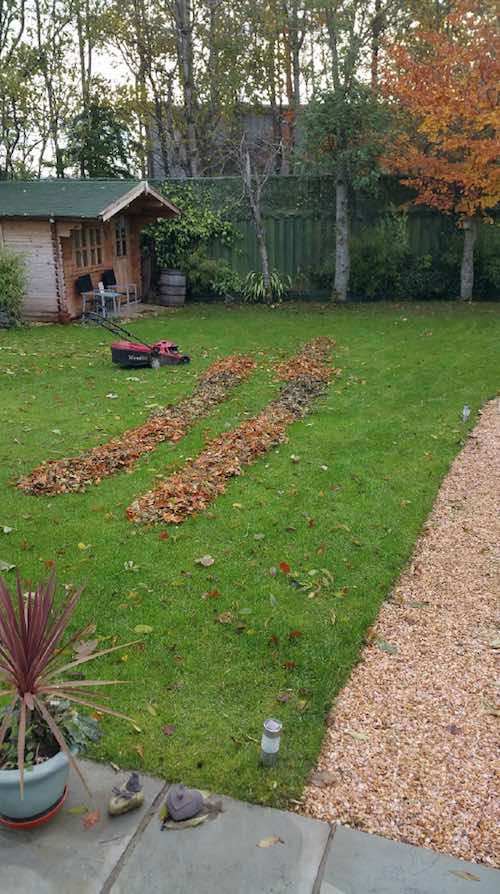 Fast forward again across a decade or two and I am married with a large private garden in the N.E of Scotland. We recycle all that we can through our hand built 0.75mtr cube open bottom closed lid timber composter and use the compost around the base of a plum tree and other garden plants.
There is something missing though….
I think I have always had dirt under my finger nails and a love of gardening but did not have the time (I spend around 230 days out of Scotland per year) to get into it at a level I would like to.
To redress the balance my wife & I decided that we would change a section of the garden to a veg patch. There is a tradition in Scotland of double digging in veg patch, I didn't see this as a productive (or particularly enjoyable) way to proceed.
Japanese Influence in Scotland

I had a look around on the net for alternate ways forward and came across  'One Straw Revolution' by Masanobu Fukuoka. My son & I had at that time recently returned from a trip to Japan and Masanobu San's book sunk straight into my frontal lobe!

In a frenzy of anticipation my son & I marked out two plots 4ft wide and 21ft long for beds 4ft  with gravel paths on either side of the beds and a central gravel path between the beds to allow access from either side without back strain or need to stand on the beds.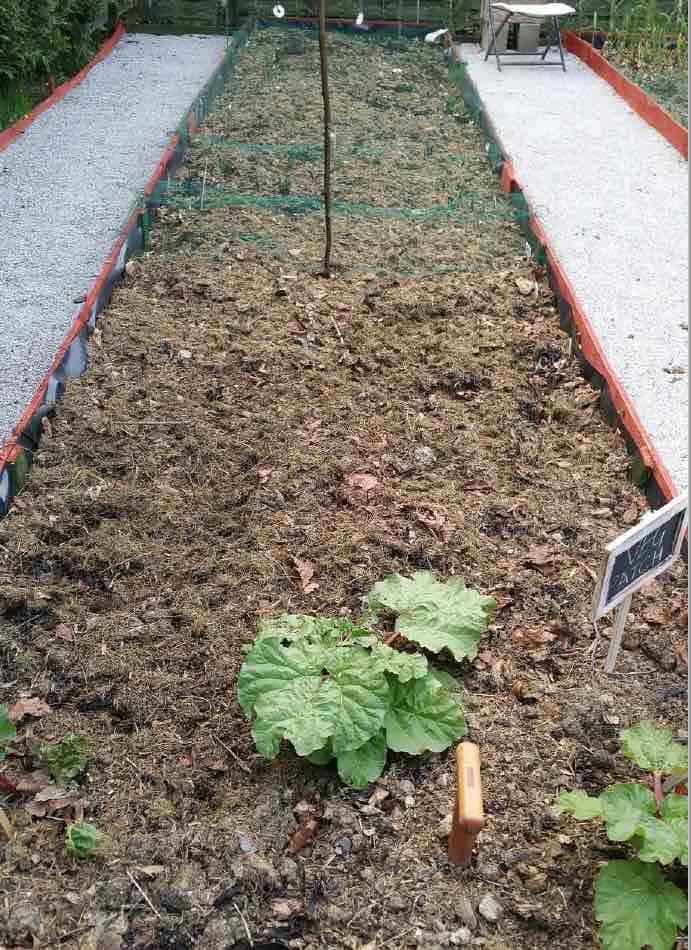 The bed areas were on a lawn which had no treatment for 25 years so we can assume that the soil would not be the best.
My son & I then lightly dug over the beds to around 4" depth and simply turned the clods over on themselves to put the grass underground. A light averaging out of level with the spade and we fitted our outer edge of bed boards to a height of 6" to retain.

We also stapled an impermeable plastic layer to the inside face of the boards which turned through 90 deg's into the bed area by a couple of inches thus protecting the boards from persistent moisture from the beds.
We then added bags of compost, leaves, grass clippings, chipped branches, more bags & bags of horse manure, bags of harvested seaweed, straw etc. to kick off a lasagna effect on the new beds. It all just disappeared onto the beds and accounted for a very humble rise of 2" in bed height  but it was all quality!
Four Year Plan to Let the Worms Work... But Maybe

The intent at the time was to begin the conditioning the old lawn soil and bring it to a friable state within 4 years with the help of the worms.
Very shortly after this stage the excitement had taken full hold so we planted Potatoes, onions, shallots, garlic, parsnips, beetroot, turnip, marrow, lettuce, sprouts, carrots & Rhubarb.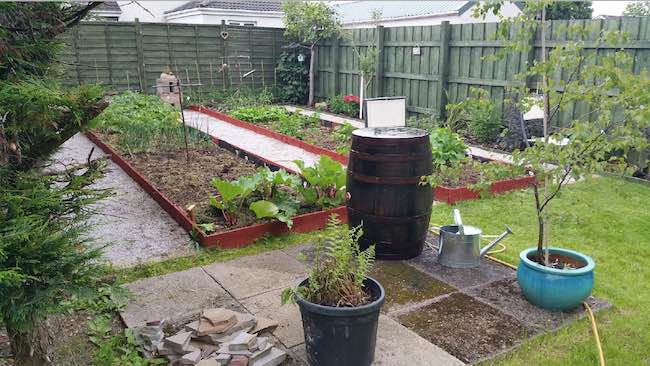 Didn't Take Four Years - The First Season
Marrow & lettuce were not  a success but all else provided an amazing crop with potatoes and parsnips leading the way and being insanely successful!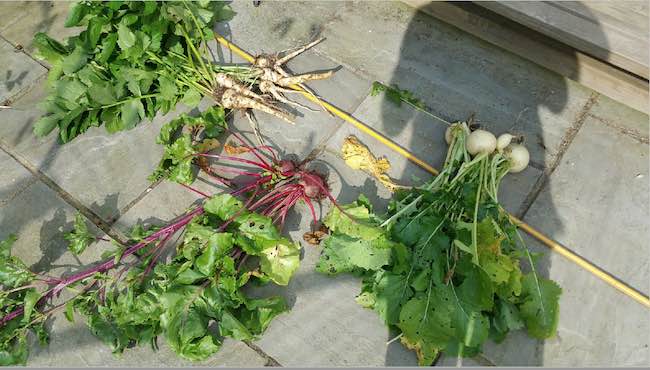 Some of the First Harvest
During the growing season we continued to add layers of seaweed & grass clippings to inhibit weed growth and conserve moisture along with an added layer of compost when available from the traditional vertical composter. We also added a second composter which was filled with stable sweepings and garden debris.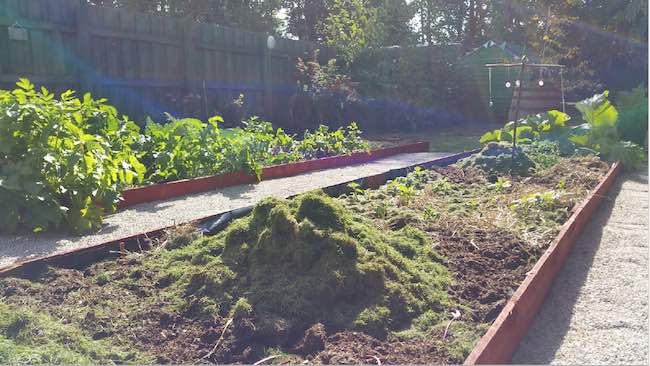 At the end of season 1 We seem to still be producing  as we have just harvested in Feb 17 the last of the Sprouts & parsnips  and currently have two types of garlic growing (one brought in from my local street market in Turkey).
In addition the Rhubarb is showing growth at the crown, around 100 shallots went in late February and I have also added 10 of Tulameen Raspberry canes for Summer fruit.
There are also plans to build a small movable polytunnel/cloche for a section of the beds (it will be fixed to the bed side rails). My first experiment in seaweed tea via an Oak whiskey barrel seems to be going well if the smell is a indicator.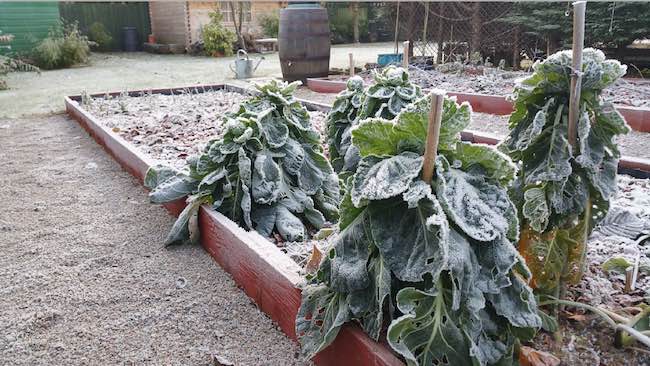 Brussels Sprouts in the Scotish Winter
Abundance with Ease...

We have been truly gobsmacked (good word) at the quantity and quality of the produce from 'the patch'.
Weeds when any take hold pull up almost effortlessly due to the ongoing covering of green mulch... I am truly into the whole 'no dig' idea and would suggest that anyone looking for a replacement tool to assist them in the garden look at 'Cobrahead', an excellent piece of simple garden equipment.
The few times I have turned over a small patch of  bed (for my own nosiness) it has been absolutely  rife with worms and various critters, there's a real Zen thing going on there if you let it and I now increasingly do!
I may install a low cost soaker system to feed water from a rain barrel or stick with my old watering can and do it by hand (Zen again), regardless of watering method the soil does not dry out and I am amazed at the fractional layer of mulch that is required to retain moisture.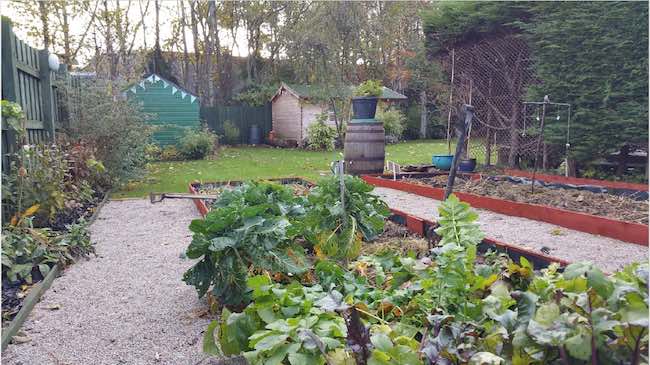 Toward the End of the Season
Last mulch additions Feb 17 before I traveled to Egypt were 40lbs of seaweed, 200 lbs of horse manure & 20 lbs of straw, these have been added  to aid in the conditioning of  the soil as 'Year Four Fully Friable Feel' remains the goal.
All else is a bonus & Zen. Must go and rake my gravel paths...

I hope this can be used on your site and encourages someone to move forward with their own idea.
Cheers
Joe
Check out our step by step Sheet Composting page.

---