The Doggie Dooley
Cleaning Up Dog Doo for 40 Years
Doggie Dooley pet waste disposal systems were first manufactured in 1968. For over 40 years they've provided people with an excellent way to handle their dog's poop.
There are two main types of doggy dooley, the leach bed system and the septic tank system. Your soil conditions and climate will dictate which system is right for you and your pet.
Will the Doggy Dooley Work for Me?
The Climate Issue - All the doggie dooley systems, and the similar do it yourself systems, work using a septic system starter. This is a biological product. Essentially, it contains the bacteria that will digest your dog's poop. These bacteria become inactive at temperatures below 40F or 5C. So, if you have long cold winters you will need some other method to handle pet waste during this time.
The actual system can remain outdoors over the winter no problem. It is durable and designed to survive freezing conditions. However it can not process poop in cold conditions.
The Soil Issue - Before buying a dog dooley, or building a similar system on your own, check your soil drainage.

To check your soil you'll need to dig a hole. Call before you dig to make sure you aren't going to hit a gas or utility line. In the US call 811 and you'll be put in touch with the people in your state. In Canada and other countries google "call before you dig" and your location to get the number to call.
The test hole can be smaller than the real hole you'll be digging out. Make it about 1 foot (30 cm) in diameter and 2 feet (60 cm) deep. Pour 5 gallons (20 liters) of water into the hole.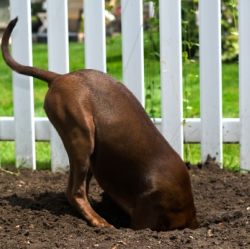 After 24 hours check the hole.
If all the water is already gone your soil is sandy and you will need a septic tank style doggie dooley.
After 48 hours check the hole.
If there is still water in the hole your soil does not have good enough drainage for any of the doggie dooley models nor is it suitable for a do it yourself system.
If it is now empty of water you can use either the septic tank or the leachate bed type systems.
Where to Put Your System
The system, because it is processing poop, should be located in an ornamental section of your yard. Don't put it right in the middle of the vegetable garden.
Many people put their dooley in the middle of the lawn for some reason. Inevitably a lawn mower incident will lead you to the internet to buy a replacement lid.
Leach Bed Style Doggie Dooley

The leach bed style doggy dooleys include model 3500, 3535, and 3800. The 3500 and 3535 are smaller and suitable for one large or two small dogs. The 3800 model is larger and good for 2 large or 4 small dogs. If you read the reviews it seems the people with the larger system are happier than those with the smaller ones.
These require a hole about 20 inches (50cm) square by 2 feet (60cm) deep. As well as adding dog dung you will also be adding 5 gallons of water and 1T (15 ml) of digester powder per dog per week.
Home made versions of this system bury a bottomless garbage can in the dog toilet location of your yard. Use a septic starter powder and water to activate the system and keep it going. If your soil drained too quickly you will not be able to keep the moisture level high enough for the digester and poop to work.
Septic Tank Style Dog Dooley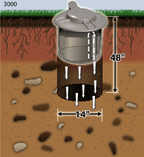 Model 2000 and 3000 are the septic tank systems offered. The 2000 works for 2 small or 1 large dog and the 3000 for 2 large or 4 small dogs. They are an enclosed holding tank with a built in overflow system. Again, the bigger system seems to have happier customers.
These require a narrow, deep hole - 14-15 inches (40cm) in diameter and four feet (120cm) deep. Yikes. You add a quart (1 liter) of water per day and 1T (15 ml) of digester powder per dog per week.
Personally, I think it would be difficult to build a septic tank system with the overflow device so I'd say if you like this method and your soil drains too quickly for a leach bed type, you would be best to actually buy a system.
Here are links to Amazon suppliers of the doggie dooley. While Amazon does ship to Canada now, the shipping rates are high, so Canadians may want to look for a Canadian supplier.
---